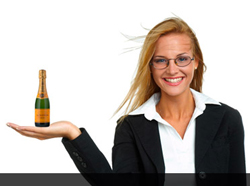 Question: What are half bottles good for?
Answer: In the south of France, half bottles are called "bed-wetter bottles" and are frequently chosen by people who don't want to get up too many times at night. People who choose half bottles also must sit at the kiddie table if there is one.
Okay, I made that up. But you don't have to just be an optimist thinking that a half a bottle is better than none. Here are five reasons you shouldn't ignore half bottles:
1. They age faster than big bottles. Normally, this is bad. But if you want to "check in" on how a wine is evolving, pulling a 375ml from your cache is one way to do it.
2. They help people who like different wines but are dining together. She wants red and he wants white? Pop two half bottles at dinner are you are all set.
3. Great "weeknight" size. Sometimes 375ml is all you need for two people anyway.
4. They offer a lower-priced way to access more expensive wines. Don't get me wrong: they're not less expensive per ounce. But if you were thinking about getting a $100 bottle and found a 375ml for $60, it's still less money to try the same juice.
5. You can save them. The empty 375s are great vessels for storing…wait for it… a half a regular bottle. By reducing the amount of oxygen in the bottle, the wine stays fresher longer. Just be sure to pour the reminder of the regular bottle into the half bottle over a sink in case there's any spillage. And leave enough room for a cork to go back in. NOTE: still wines only!
What's your take on half bottles–useful or useless?