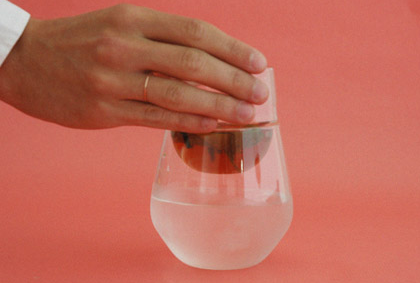 Drink a glass of water for every glass of wine and you'll emerge from the evening hangover-free. Such is common wisdom and some French design students have made some new nesting glassware, hand blown in Holland, that help drinkers comply with this maxim.
However, in his book Proof: the Science of Booze, Adam Rogers pours cold water on the idea. He writes that academic research on hangovers has not demonstrated dehydration, or a lower level of electolytes, as the cause of hangover severity.
So I guess it's a good thing the the designers of the nested wine glass told Dezeen that their main goal is to reduce the over-consumption of alcohol, not prevent hangovers. Apparently having a little water after wine will slow the guzzlers down? Well, even if not, enjoy the cool glasses.