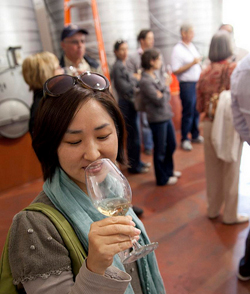 Being an undergrad and drinking may appear to go hand in hand. But now they can legally go together in California. Well, sipping and spitting, that is.
Governor Jerry Brown signed into law a the so-called "sip and spit" bill last week. As of next year, California students enrolled in beer or winemaking classes will legally be able to sample beer and wine in a class. They do have to be at least 18, but that's a three-year jump on the legal minimum age for drinking. California has many places to study winemaking, including UC Davis is one of America's leading faculties in viticulture and enology. The Golden State also produces 89% of American wine and is home to many leading craft breweries, including stalwarts like Sierra Nevada as well as Stone, Russian River Brewing, and Lagunitas, among many others.
While the law may seem silly–no swallowing, young'uns!–it is a terrific advance for American wine. Many colleges and universities across America are offering wine appreciation classes as wine consumption has risen for 20 consecutive years. Hopefully, this new law will inspire other states to consider similar legislation and remove a legal obstacle to the next generation of hipster wine and beer makers. If there's something that really sets (young) American wine consumers apart, it is their curiosity and relatively high level of knowledge. This new law will only help the trend.