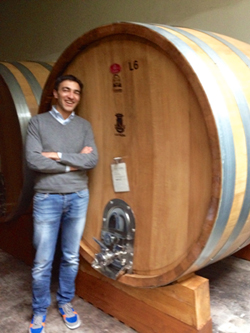 Giuseppe Vaira was caught in a fight when he was in elementary school. It wasn't the sort of meet-you-at-the-bike-racks kind of thing. No, it encapsulated what might happen only to the son of a winemaker, or even the son of a Barolo winemaker. He was classmates with two other kids who were also from wine families. One said proudly that he was the son of a modernist winemaker while the other said proudly that she was the daughter of a traditionalist. No doubt, both the kids harrumphed, crossed their arms, and turned their backs to each other.
Giuseppe was flummoxed. Which camp did his family winery fall into? When he returned home, he asked his father. Instead of a simple and quick reply, Giuseppe says that his father launched into a seemingly eternal discourse about the pros and cons of each style. Ultimately, his father, Aldo, described their house style as "clean traditionalist."
Now 28, and a father himself, the lanky Giuseppe met me at his family's winery, G.D. Vajra, last month. The winery consistently produces well-priced wines from the Langhe, 15 labels in all made from 60 hectares (150 acres) of vines sprinkled throughout the region. The winery is a relative newcomer: Aldo left the city life of Torino and returned to his ancestral Langhe in 1973. At the outset, they practiced organic grape growing but they stopped being certified organic twenty years later. One factor that pushed them to opt out of organic certification was that they felt that copper—often used as an organic control in the vineyard—could harm the soil. Another reason Giuseppe mentions is that there was too much dogmatism: "everyone thinks they are 100% wrong or right."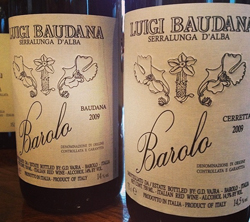 We moved from the winery to a tasting room and tasted some wines, including their dry 2012 Riesling (will have to include this as a ringer in my next Riesling blind tasting), the 2011 Barbera (with an appetizing savory character), and a couple of Baroli from their new property Baudana. Even though they had made the wines from these Serralunga properties for a couple of vintages, 2009 was the first under their control, giving them a parcel in the Cerretta vineyard. The two wines were serious and almost daunting at this stage. (Find G.D. Vajra wines at retail.)
Giuseppe has a great way of thinking about vintages: rather assigning them stars, he plots them in a four-square matrix. The vertical axis runs from power to elegance while the horizontal runs from fruit to minerality. The 2010 vintage, for example, he feels is getting lots of hype since it is, for him, a "brainy, geeky" vintage, with elegance and minerality. He thinks the 08 will be more accessible since it is fruity and elegant. But both these vintages will "give more joy" than 2004 and 2006. That's a great schematic – Giuseppe could always get into the visual presentation of data!