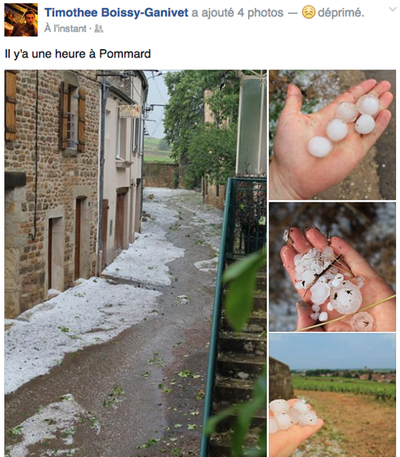 A violent hailstorm sprayed large hailstones over some Burgundy vineyards leaving many incipient grapes destroyed. Anne Parent of Domaine Parent in Pommard, described the violent storm as a "like a machine-gun attack" of the vines, even though it lasted only three minutes.
While the damage has yet to be tallied across the region, some initial assessments are putting the loss at 40 – 90 percent of the crop with Volnay, Pommard, Meursault, and Beaune getting hit the hardest. "It's a catastrophe," said Jean-Louis Moissenet, the president of the Pommard winemakers' association was quoted in The Telegraph as saying. "We were heading for a good year, but now that has fallen through." Last year, the region was also hit by a devastating hailstorm.
The effects were localized. Jeremy Seysses of Domaine Dujac in Morey St Denis tweeted: "At this point, impacted berries that should dry out and fall off. Canopy seems mostly OK in CdN [Cotes de Nuits]."
Some growers have tried to use "hail cannons" (a rudimentary one pictured below; others here), which fire silver iodide into the atmosphere in an attempt to turn the hailstones into rain. The effectiveness of these machines is debated.
In other parts of the world, growers put hail nets in place to protect fruit, including grapes and other fruit trees. Even though they are less pleasing to the eye than simply rows of vines, AOC rules sometimes disallow nets. Further, some skeptics of nets say that they reduce the amount of light the plant receives. But should they be allowed?
The hailstorm is very sad news that will undoubtedly make some growers re-think pinning their financial hopes on the roulette of Mother Nature. And it will likely reduce the crop from some of my favorite appellations, which will compound the problem of rising Burgundy prices.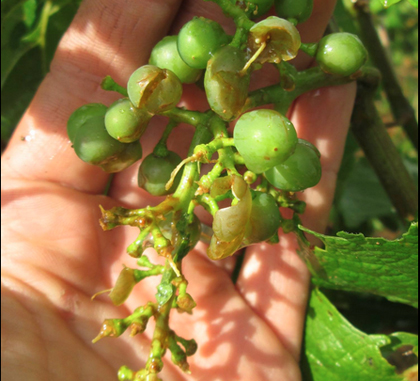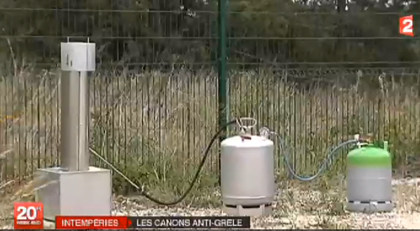 Check out @BourgogneLive on Twitter.