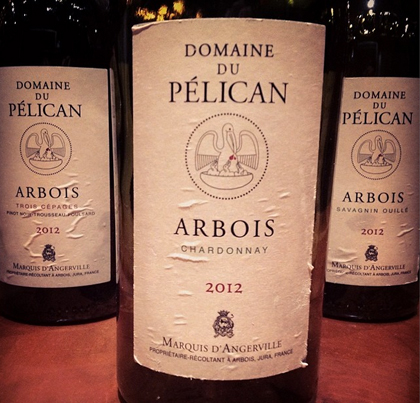 Guillaume d'Angerville has made sophisticated and elegant wines at his family domaine in Volnay since he took over in 2003. But recently, the story goes, his curiosity was piqued in the wines of the Jura: a Parisian sommelier poured him a chardonnay from the region blind and d'Angerville took it to be a white Burgundy. And we all know that happens with a successful and ambitious vintner who has his curiosity piqued: before long, d'Angerville had purchased two estates in the Jura.
He placed them under the name Domaine du Pélican complete with a pelican on the label. You might think that because the Jura is the ultimate wine for hipsters that, in deference to Portlandia, he had to "put a bird on it." But apparently it is a reference to the coat of arms of Arbois, where the wines are made. Burgundy…Jura…is this a match made in sommelier heaven or what?
D'Angerville settled on the two properties after an extensive search. Even though Arbois is only an hour from Volnay, it gets twice the rainfall. Also, some of the plots can be quite windy, given the rolling countryside. Throw in his high standard for excellence and it's no surprise that it took d'Angerville a few years to find the right spots. Wink Lorch has a detailed backgrounder (pdf) about the new domaine and writes that they are looking for yet another vineyard parcel in the area. They are also experimenting with the local "sous-voile" style of winemaking, wherein white wines mature under a natural yeast blanket giving them an oxidative quality.
The current wines are made in a Burgundian style, which is to say that the white barrels are topped up and not oxidative. The 2012 Chardonnay has a vibrancy and elegance with layers–strata?–of minerals and a lingering finish. The 2012 Savagnin Ouillé is richer, with a faint nutty character, and big dose of minerals (can't vouch for vitamins). The red 2012 Trois Cépages is a blend of Pinot Noir, Trousseau, and Poulsard (60-35-5) that has the terrific acidity you would expect as well as lively, prickly tannins that give it good structure.
These exciting wines are hard to find but worth seeking out. (Find these wines at retail)