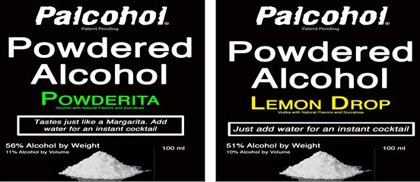 Yesterday, the approval of a powdered alcohol called "Palcohol" got a lot of media attention. You could add it to food. You could smuggle it into stadiums. You could snort it.
However, the story got a little ahead of itself.
An attorney at bevlaw posted the original item noting that the TTB, a division of the Treasury that approves all things alcohol at the federal level, had approved seven labels for Palcohol. The labels included "Powderita" and "Cosmopolitan" with the words "Just add water for an instant cocktail."
When I checked the TTB site for label approvals yesterday afternoon, the labels were all listed as approved as of April 8 (good thing it wasn't April 1 since it reads like an April Fool's prank) yet were currently "surrendered." I wrote Mark Phillips the developer of Palcohol and he told me via email that the "seven labels have been surrendered due to an issue with the fill level." He added that he did receive a separate approval for the "formula" so, he says, "powdered alcohol is still approved…We're still moving forward and will submit new labels." The alcohol powder is derived from vodka and rum.
Mark Phillips is the author of "Swallow This: A Progressive Approach to Wine." His web site claims that his television show "Enjoying Wine with Mark Phillips" is "one of the most-watched wine shows ever." Episodes include microwaving and freezing wines.
Tom Hogue, a spokesman for the TTB, responded to a query from the Associated Press that the Palcohol labels were approved in error. Palcohol's web site posts that gave up the labels through a "mutual agreement."
It is unclear what led the Palcohol applicant to surrender the labels nor what made the TTB do a 180. But one thing is for sure: powdered alcohol donuts are still a ways off.