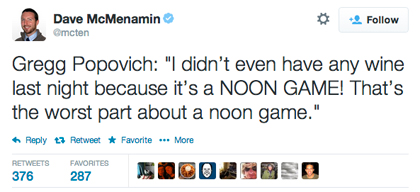 Gregg Popovich joked his pre-game press conference yesterday that the early start had put a dent in his wine consumption the night before.
You probably know that Popovich is one of the winningest coaches in NBA history who fosters team play that is unparalleled in today's NBA. But you may not know that he went to the Air Force Academy and was stationed in California where he got into wine. He has a 3,000-bottle cellar and is a partner in A to Z Wineworks and Rex Hill in Oregon.
The Spurs won their early start yesterday. Given that they had the best record in the deep Western Conference, Popovich may well be the coach popping bottles after the Finals are over (they don't call him "Pop" for nothing). Unless Tom Thibodeau and the Bulls can take it all!
"Popovich loves his wine" espn.com
"Pop art" [SI.com]