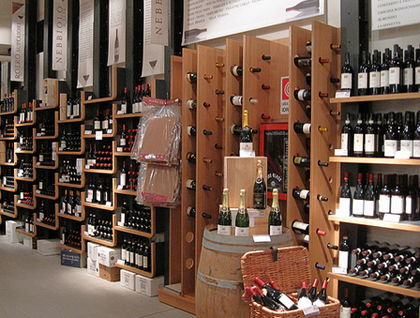 Eataly Wine will close for six months and its owners, including celebrity chef Mario Batali, will also pay a $500,000 fine per an agreement with New York state authorities yesterday. No date has been set for the start of the closing. The settlement resulted from the State Liquor Authority's enforcement of a ban on "interlocking interests." The SLA also claimed that the shop's owners suppressed that information.
The turn of events is somewhat puzzling. It was no secret that Joe Bastianich sold wines that he made at his winery in the north of Italy. Indeed, the shop's web site trumpeted the fact that he "returned to his roots in northeast Italy" where he is "creating wines" in Friuli. (That wording has now been removed.)
Crain's NY reports that the issue came up at the time of the shop's license renewal in 2012. At first, the owners disputed the charge but later relented. The penalty also includes the removal of Lidia Bastianich from Eataly Wine's license.
The issue is what the "three-tier system," which prevent vertical integration in the wine and spirits industry. This means that producers must sell to licensed wholesalers who, in turn, sell to retailers. (While there may be some gray area around this, the only clearly legal bypassing of this is where a producer can sell directly to retailers in the same state.) Thomas Pinney writes in A History of Wine in America, that this system came into effect after Prohibition because of the "deep suspicion" of the liquor trade at the time; further, states were determined not to allow the producers to control retailers, as they had in the old saloon system.
While societal "suspicion" of the industry may have diminished, for better or for worse, the ban on vertical integration remains, as the penalties on Batali & Bastianich reflect (for their retail operation; it will be interesting to see if Illinois authorities take a similar view of the Eataly Chicago wine shop.). However, methinks they will not become a cause célèbre for the reform of the system.
Photo Credit: thinkretail cc