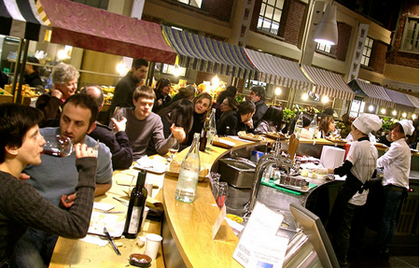 Can you imagine dining at Del Posto and not having a glass of vino?
That might be the case. The New York SLA (State Liquor Authority) has posted to their website a list of items on their March 25 meeting. On the agenda are several items relating to liquor licenses held by Batali and Bastianich Hospitality Group, for Eataly, Del Posto and other of their restaurants.
The item for Eataly states two charges: (1.) "interlocking interest" on 8/1/13 and (2.) False material statement on 8/1/13. The proposed remedy is a $500,000 fine and suspension of license for six months, and removal of Lidia Bastianich from Eataly Wine LLC. (pp. 54-67 in this pdf) These charges and remedies are repeated for all Batali and Bastianich hospitality group restaurants in New York State: Babbo, Felidia, Becco, Esca, Otto, Casa Mono, Lupo, Del Posto, Tarry Lodge, Eataly and Eataly Scuola. A previous B&BHG press release described their restaurants: "While each location offers its own culinary identity, all have the signature combination of thoughtful and memorable food, intelligent wine lists, and an emphasis on living life to its absolute fullest."
Reached by email, a senior person at Batali and Bastianich Hospitality Group declined to comment on the situation.
It's no secret that Joe Bastianich imports wine and sells Bastianich wine made in Italy through the Eataly wine store and various restaurants. However, he knows how the system works. Early reaction to this item from several industry insiders is that the SLA has changed their attitude toward such cross holdings and interlocking ownerships, rather than that Bastianich did anything wrong per se.
One insider remarked, "Few restaurants could survive without a liquor license for six months but Bastianich might be able to." The insider, who requested anonymity, continued, "If this is a new direction, they [the SLA] are certainly sending a signal with this."
Clarification should come at next week's SLA meeting.
Photo Credit: demoshelsinki cc