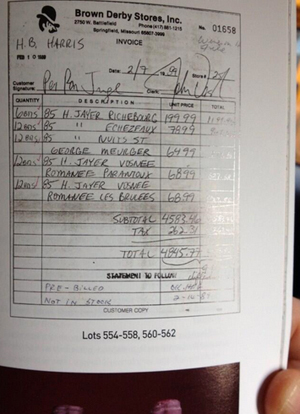 When fear of wine counterfeits remains high in the wine wine auction market, bidders will pay a premium for wines with superlative provenance. Such was the case with the Burgundies from the H. B. Harris collection, which fetched $7.5 million over the weekend in Chicago at Hart Davis Hart.
Harris, a real estate developer known to his friends and family as "Bubba," got into wine in his twenties. He amassed a trove of fine wine that he kept initially in an apartment that he had customized into a wine cellar but then switched to professional storage in 1994. He died last year at the age of 78.
The 986 lots at the Hart Davis Hart auction all sold and the total of the auction exceeded the $4 – $6 million estimate. HDH printed some of the original receipts in the catalogue. I liked the fact that Mr. Harris bought the '85 Jayer Cros Parantoux for $68.99 a bottle or $828/case back in the day. Six of those bottles ended up selling for $101,575 on Saturday.