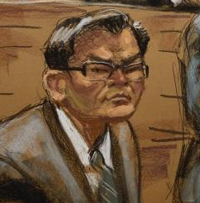 For eight days at the federal courthouse at 500 Pearl St., proceedings were underway in the important and interesting trial of US vs Kurniawan. I attended for three days. Here are some outtakes from my time at the #rudytrial:
* Bill Koch, billionaire, testified that he liked "kiwi wine" as well as Spanish wine and doesn't drink DRC every night from his 43,000 bottle collection. Alert John Hodgman to alter his billionaire schtick to include the everyday drinking wines of mere mortals!
* Bill Koch said the best wine he's ever had was a bottle of 1853 Margaux at the chateau.
* When he finished testifying, Koch came and sat in the same bench in the gallery that I was sitting in. He took out his wallet to give some one a card. (Wait, he has a card?) The wallet was thinner than you might expect, a worn, crocodile skin jobby.
* The dapper Laurent Ponsot's dress got more casual each day culminating in red jeans on day 7.
* There's a cafeteria on the eighth floor where you can get sustenance. Took me three days to work this out.
* The affable Judge Berman read detailed instructions to the jury on how to evaluate evidence, what is reasonable doubt, which statutes to apply and recited chapter and verse of the statutes. He did the best job possible reading this but it lasted over an hour. Really. Needed. Coffee. And. iPhone.
* Phone envy: You can only bring your phone in the courtroom if you are a reporter who covers the courts on a long-term basis. Or court staff. Otherwise, enjoy the proceedings!
* The courtroom sketch artist drew on REALLY big brown paper. Like 36 x 48. She also has a binocular headset for a closer look at people and the evidence. She works quickly but the charcoal from her pencils gets on her hands.