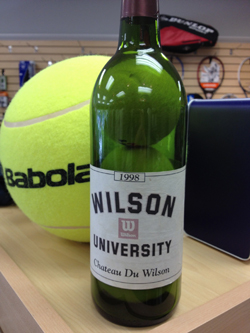 There's been a lot of good tennis on TV the past ten days or so thanks to the US Open. And more exciting matches are coming over the weekend as new champions will be crowned. (The weather looks good in the coming days so they might actually wrap things up on schedule the coming days.)
I was at a tennis shop the other day and saw this item and thought it a timely fusion of our interest in wine and these current events.
Clearly, like pear brandy where the branches adorn the tree limbs, they grew these balls inside the bottle. Vive Chateau du Wilson!