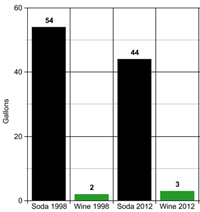 Americans love soda so much that we drink 44 gallons a head last year. But soda sales have slowed, as Americans drank 52 gallons of soda in 1998. So that's a decline of 18%. Even though that change hasn't been reflected entirely in America's waistlines, the secular decline has led to some to argue that "peak soda" is over.
Of course, we're drinking a lot of other things such as bottled water, coconut water (!), and the juice of pomegranates and acai berries. For beer, the consumption arrow is pointed down (and sentiment is in free-fall). But wine consumption per capita has risen every year since 1993.
So there you have the current score: soda, 44 gallons, red arrow; wine, 3 gallons, green arrow.
Oh, and for a bonus chart of the day, check out the latest poll data from Gallup. They show that Americans of all ages are more into wine than 20 years ago. Only 14 percent of the youngest drinkers then liked wine as their preferred drink (compared to 71 percent who like beer); 29 percent of that cohort now says wine is their preferred drink (with only 43 percent liking beer the most). Young people today like wine twice as much as they did then. And people over 50 don't really like beer.