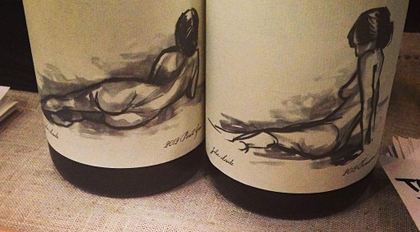 Jolie-Laide, a micro-wine label by Scott Schultz, has attracted out-sized attention for what's in the bottles: Trousseau Gris, Pinot Gris, and Syrah, all from single-vineyards in California. But with the current vintage, the outside of the bottles have also been turning heads since the labels depict nude line drawings.
Schultz says he varies the labels of the Jolie-Laide (translated as "pretty-ugly") wines every year. Last year, a calligrapher designed the labels. This year, it is tattoo artist Kapten Hanna who sketched the art for the 280-case production.
John Trinidad posted the above picture to Instagram with the comment, "This wine label is HAWT! And the wine is gorgeous, too."
Schultz, a former sommelier who currently works at Wind Gap wines, said "We were hoping because it's just black and grey sketch art, it would remove the sexuality and evoke more a simplistic, old-school approach to the wines."
Apparently the TTB thought the labels were HAWT too–but not too HAWT to handle. The Pinot Gris (left above) and the syrah (not pictured) passed in the first go-round but the Trousseau Gris needed a second review before getting the green light on July 15. Interestingly, small wines can apply to the TTB for a "certificate of exemption from label approval" and sell their wines only in-state, bypassing the need for federal approval. But with the TTB's stamp of approval, these wines can now be sold in markets such as New York City, where Shultz says the wines have some fans already.
What do you think — if you were an administrator, would you give these labels a thumbs up? Or, as a consumer, does it pique your interest in the wine?