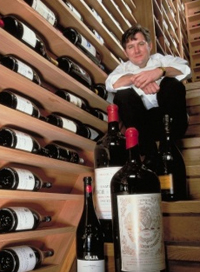 Charlie Trotter has been sued for selling a fake wine. In the complaint, Bekim and Ilir Frrokaj allege that they contacted Trotter about purchasing a magnum of 1945 Domaine de la Romanée Conti from the restaurant's cellar (the restaurant closed last August). They allege that Trotter told them to book a table at the restaurant and discuss it with him over dinner. On June 15, 2012 they dined at the restaurant. Here's an excerpt from the complaint:
During dinner, Charlie Trotter and the sommelier explained the rarity and value of the DRC magnum to Benn and Ilir. Charlie Trotter and the sommelier also spoke about wines from the Domaine de la Romanee-Conti estate and how those wines are some of the rarest and most valuable in the world. A Charlie Trotter's employee negotiated the price – $46,227.40 – with Benn and Ilir. Based on Defendants' representation of the rarity and value of the DRC magnum, Benn and Ilir agreed to purchase it. Ben and Ilir paid Charlie Trotter's $40,000 in cash and $6,227.40 by credit card for the DRC magnum.
They continue that their insurance provider required an outside authentication of the bottle, during which they discovered that DRC didn't bottle any magnums in 1945. They are demanding a refund, damages in excess of $30,000, court fees, and reimbursement of some expenses including travel to Chicago.
Charlie Trotter told the Chicago Tribune: "It was a disgruntled client who probably paid a lot more money (for the bottle) than he's ever paid before," Trotter said. "It's buyer's remorse."