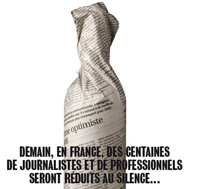 Factions in France, a country whose national image has historically been intertwined with wine, are waging a bizarre campaign against wine. They opened a new front in their battle last week: trying to ban blogs and social media from talking about wine.
The initiative, part of a report from Professor Michel Reynaud with the cheery name "Damage related to addictions and strategies for reducing the damage," would seek to limit promotion of wine in the internet, extending and updating the 1991 Evin law. Winery websites would be exempt but Decanter has a summary; the full report is available in full as pdf here.
"We need to formally ensure that no media about alcohol can be aimed at young people, or potentially seen by young people, including the internet (except producer sites) and social networks," Reynaud writes on p. 56.
Clearly, this is absurd. Not being able to discuss wine at all also means not being able to discuss how to consume wine in moderation or with food. Or its role in history, culture and economics. Or its plant biology, making it a forbidden fruit. The report is out of step with discussion on the internet, unenforceable, and is as boneheaded as it is blunt in its proposals.
Fortunately, an effort with a petition has emerged, called "Touche Pas a Mon Vingernon."