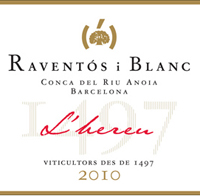 While he was pouring bubbly at the spring tasting of his his NY distributor (Skurnik), I spoke with Pepe Raventos of Raventos i Blanc. Late last year, Raventos announced that they had decided to withdraw from the Cava D.O. and will file for a new D.O. Conca del Riu Anoia. I asked him why.
Pepe Raventos: The motivation is a belief in the great potential of sparkling wines that have been produced in our conca, our valley, for the last 150 years. It's one of the most historical wine regions of the world. I think that when you're deep in typicity–pace, soil, climate history–then your wines start to become closer to art than to winemaking. Cava has become a winemaking wine rather than a viticultural wine. The whole Conca dream is to make it about place, to make it a viticultural wine.
How long will the D.O. process take to be formalized?
The first thing is we have to work well with the farmers in the region and get everyone excited, we need to get you, the wine writers excited, get the customers excited. The world needs a true alternative to grower Champagne because it doesn't make sense…[he pauses to pour a taste] There's super authentic wine in so many regions. But when it comes to bubbles, it's always the same region. It doesn't make any sense. We have to do things well. When this is achieved, then it's going to be easier to convince the Catalan government so say "this is something that adds to the country." Right now, it will be more of a political fight that we don't have energy for. [The application will take] maybe one generation? For the moment, we are the only one behind this application.
Can your actions benefit the Cava name as a whole, even though you're taking a new name? Yes, definitely. Now the reaction is like, "Oh, he's the bad guy." But, in the end, it's a way to demonstrate with facts that you believe more in your region than anybody.