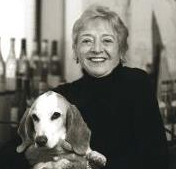 Martine Saunier started a wine import business in 1979 because she "couldn't find anything exceptional to drink." As of last week, she sold that company. Unlike another major transaction this month in the wine world, the buyers are identified and there's a very professional press release.
Saunier, 78, built the business based in Novato, CA to include such venerable estates as Henri Jayer, Chateau Rayas, and Domaine Leroy. She has been hailed as a "rock star of the wine world" and an "importer extraordinaire." She and many of her producers will be featured in a documentary entitled "A Year in Burgundy," due out next year on DVD.
The buyers are Gregory Castells and Kate Laughlin. Castells had a career in wine service in restaurants, including as Head Sommelier at the French Laundry but has most recently been at Soutirage, a Napa-based wine retailer while Laughlin was in advertising and operations, most recently at Soutirage. As I said, the press release is very thorough (apparently, she started out in public relations). The company, also a distributor, will continue to be called Martine's Wines.