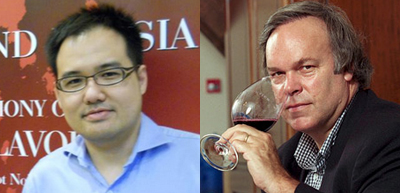 Soo Hoo Khoon Peng is the newest owner of the Wine Advocate, report blogger Vincent Pousson and Decanter.com. They point to email received from sources close to the transaction saying that he led a syndicate of buyers to pay $15 million for an undisclosed stake in the company. Soo Hoo, listed as vice president at Detsche Bank on his LinkedIn profile (and on his Facebook page, which has now been removed despite frequent updates prior to Monday), was a co-founder and director at Hermitage Wines, an importer and retailer. Pousson and Decanter report that the email says he divested himself of the Hermitage stake last month.
In his announcing of the transaction, Robert Parker had described the buyers as "totally independent of the wine industry." He also noted that the Wine Advocate headquarters would continue to be in Maryland. Decanter quotes the email as saying that Singapore is the new "command and control" of the Wine Advocate.
Hermitage Wines has organized events for various wine world luminaries, including Robert Parker at the three-day "Ultimate Parker in Asia" event in 2010. "Parker is god when it comes to wine, nobody in any business is as influential as he is," Hermitage co-founder Arnaud Compas was quoted in the Reuters story at the time. "He has vision, the ability to anticipate how a wine will develop, and he has always been spot on, which sets the benchmark for prices. Because of that, Robert Parker has created fortunes."
After several days, there was no reply to an email to Soo Hoo seeking verification of his role in the transaction.
Related: Decanter.com; "Singapore sling" at WineDiarist; previous