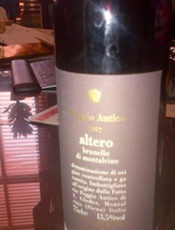 At the White House yesterday, our political leaders met to find a way from steering the country over the fiscal cliff.
Even though their positions still seem far apart, the general tone afterward was positive and one of comity (probably better than comedy, in this situation). Setting the mood early, President Obama publicly wished Speaker Boehner a happy birthday before the meeting started. Afterward, Boehner's aide was seen carrying a wine bottle in a shimmering bag. The Times wrote that Boehner prefers merlot, but that the president gave him a 1997 Brunello, "a pricey Italian red." Boehner's aide later tweeted a picture of the 1997 Poggio Antico, "Altero." (find this wine)
No matter how you look at it, the gesture was very nice. But wine geeks can now parse it for meaning: would a '97 Barolo have shown hard tannins and indicate the president was digging in his heels? Or is Obama showing the rewards of patience, meaning he's ready to pop and pour, as it were?
Either way, the gift makes for better diplomacy than giving Boehner some Ding Dongs, which are quickly on their way to becoming collectibles.