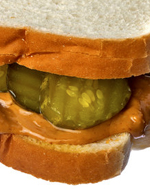 Dwight Garner, the astute book reviewer for the NYT (be sure to check out his hilarious review of The 4-hour Body from last year), ventures into the food section this week with what he calls a "thrifty and unacknowledged American classic": the peanut butter and pickle sandwich. Or PB&P, if you will. He delights in the "vinegary snap of chilled pickle cuts, like a dash of irony, against the stoic unctuousness of peanut butter."
I can't say that I'm swayed by this description and remain skeptical of the appeals. Nonetheless, given that the NYT spotlight is now focusing on this, the question everybody's going to be asking–sort of the Rule 34 for bizarre foods–is which wine goes with PB&P, or is it impossible?!?
Hit the comments with your thoughts! Thanks, @trouty for the suggestion!