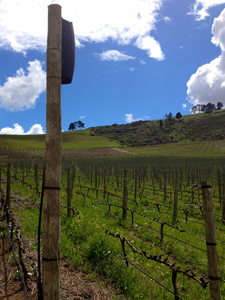 Kobe beef cows may be jealous: the vines and barrel room at De Morgenzon winery in Stellenbosch have Baroque broadcast 24 hours a day.
The DJ is Hylton Applebaum, who owns the property with his wife Wendy (Hylton also owns the Classic FM radio station in Johannesburg). Hylton says that the mix includes no music "that annoys people," ruling out harpsichord, energetic violin solos or organ, which sounded funereal. Opera and all human voice were excluded from the track because they could be too jarring for the staff and neighbors. The staff that I spoke with say the music has a calming effect. Only certain blocks have been wired for sound, including a block of syrah behind the winery.
Hylton says the vineyard with the music shows slower growth than adjacent vineyards that have no music. "We are able to achieve phenolic ripeness with lower sugars," he said as we stood among the vines.
I asked him if techno would speed up the growth. He said that some experiments in central Europe had shown a variation in tomatoes with the type of music played; jazz worked well but heavy metal killing the plants.
De Morgenzon's "DMZ" line represents good value at about $15 in the US; the standout of the line is the crisp chardonnay, which has just a hint of early Mozart on the nose. Their top wine, a 100% chenin blanc, presented a serious side of chenin. But more on that in a future post.