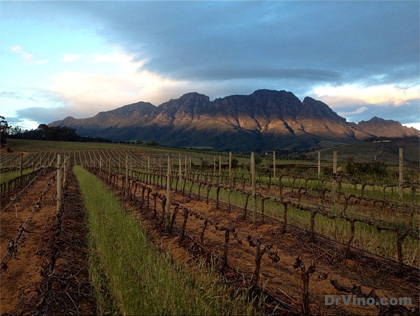 I'm in South Africa right now, attending a biennial trade show called Cape Wine 2012. Although wine was first made in 1659, the industry has confronted numerous challenges from the weather, economic crisis, economic boycott, and phylloxera over the years. In the almost two decades since apartheid ended, the industry has changed a lot in terms of grape varieties vinified and how they are grown, wines exported, labor practices, and arrival of international capital. Today, the Western Cape remains a stunningly gorgeous region that has exciting local vintners as well as an international flair: I been in and around Stellenbosch the past couple of days and have already bumped into Bruno Prats, Hubert de Bouard, Charles Banks, and the view above is from Glenelly, the winery built by May de Lencquesaing of Pichon-Lalande. I look forward to exploring the wines, meeting vintners, winemakers and other journalists, and delving into various themes at the show in the coming days. Is there anything you are particularly interested in? What is your take on South African wines now?
In the name of disclosure, and for those who think press trips are nefarious exercises in brainwashing, my trip is organized by Wines of South Africa.
Keep an eye on my Twitter feed for my latest updates (where wifi permits!) including commentary and pictures (instagram handle: drvino).