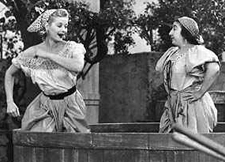 The former Soviet republic of Georgia has found an unusual labor source at harvest time: Former candidates for President and Vice President of the USA.
John McCain and Joe Lieberman picked grapes at the vineyard of the Georgian president and then crushed them underfoot. Mmm.
Which election year will we see current candidates for high office posing for the cameras and doing harvest work in the US? It will take a while for the perception of wine as some effete drink to wear off before it transforms into something that the coveted everyman voter likes to drink. I'll go with 2032.
(Note: photo of McCain and Lieberman in action not available.)