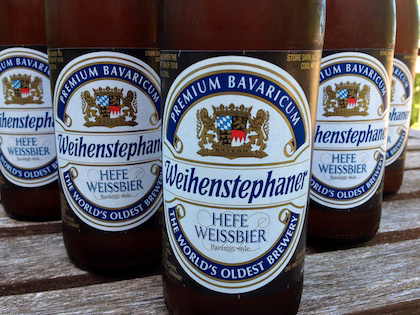 Eric Asimov tastes through some domestic hefe weissbiers in an article for the NYT. If you haven't discovered this category of summer refreshment, go straight for the Bavarian choice: track down some of the Weihenstephaner hefe weissbier. Weihenstephaner actually makes a range of beers, including dark and light (Kristall) weissbiers, but the hefeweizen is where the money is, imho, bottle-conditioned and slightly cloudy in the glass with classic banana/clove notes. At the end of a hot summer day, it's hard to think of a more refreshing beer (though a Reissdorf Koelsch comes close).
As to domestic hefeweizen selections, I agree that they vary frustratingly widely. But Apollo from Brooklyn's Sixpoint is also a good one.
Which are your faves? And do you add lemon or not?