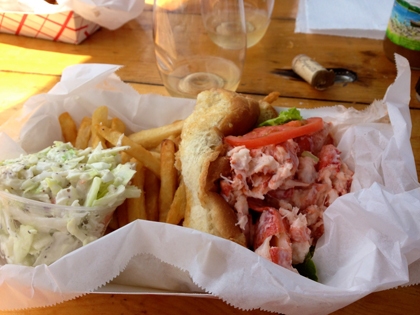 Lobster roll plate at Sesuit Harbor Cafe in Dennis, MA.
What's the best lobster roll on Cape Cod? It's hard to say and many local spots have their partisans. I've had the good fortune to perform a broad sampling–all in the name of science!–and offer you my top picks. For those of you who have not sampled its ineluctable charms, the lobster roll is one of those high-low pairings of lobster chunks dressed with a a mayonnaise sauce, loaded in a hot dog bun adorned with lettuce; often fries (double fried!) and/or coleslaw accompany the roll (which is sometimes seared).
Since this is a wine blog and not a lobstah blog, it's worth noting that the Cape's many clam shacks are terrific for wine lovers: the seafood is fresh (and local) and the BYOB policies are friendly. Most are extremely casual, delighting in a nostalgic, rustic, maritime vibe, with outdoor seating. Bring your own wine, bring your own glasses (Govino) and dig in.
Honorable mention: Chatham Pier Fish Market. Abundant lobster and double fried fries make this a great spot–no photo since I wolfed it down. It's right at the pier, the kids loved watching the seals and the fishing boats coming in with their loads of dogfish and skate. A few picnic tables under a tree.
Mac's on the pier in Wellfleet: Mac's is a gem of a spot that has lots of seafood available right off of the local boats. The location is atmospheric at any time of day with sweeping views of the harbor; at dinner time, the setting sun slants over the dining ara and a stretch of beach adjacent to the tables completes the scene. The lobster roll gets high marks.
Now in its 37th season, Captain Frosty's in Dennis has a terrific plate that includes super-crispy fries, good coleslaw and some clam dough balls that could displace funnel cakes at airports and carnivals or wherever they are sold. The lobster roll is a very manageable size for one person and has tender meat, with tasty claw in each one I've had.
Sesuit Harbor Cafe has lobster rolls so full of lobster that the seared bun is barely visible. Nestled in a marina in Dennis, with only outdoor seating (it closes when raining), it's sort of under-the-radar if you can say that about a place that usually has a 15-minute wait. Cash only.
So which wine pairs with lobster roll? I say Chablis, Champagne, Muscadet, Txakoli, or godello. I show a couple that I have paired below.
Which are your favorite lobster rolls on Cape Cod?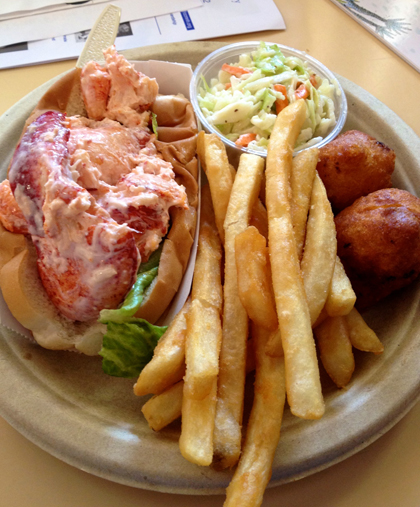 Captain Frosty's lobster roll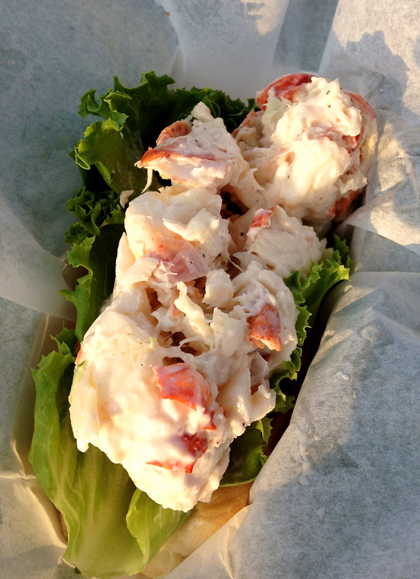 Mac's lobster roll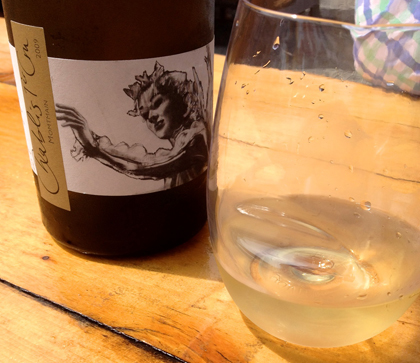 The delicious Thomas Pico Chablis, Montmains, 2009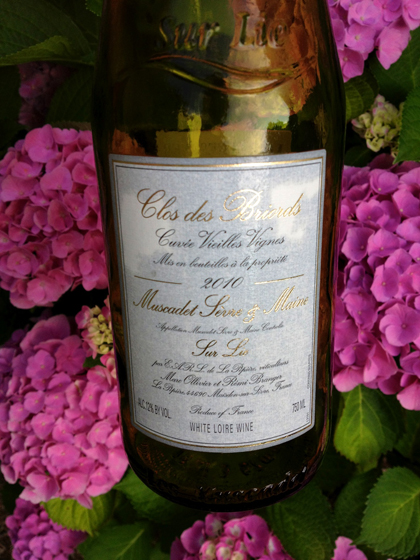 And the 2010 Clos des Briords Muscadet from Domaine de la Pepiere.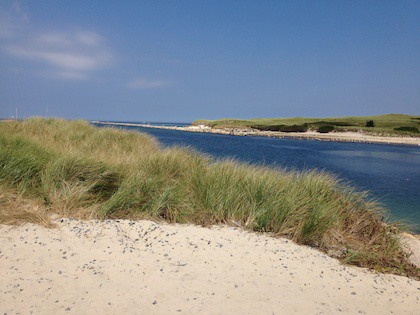 View from Sesuit Harbor Cafe.