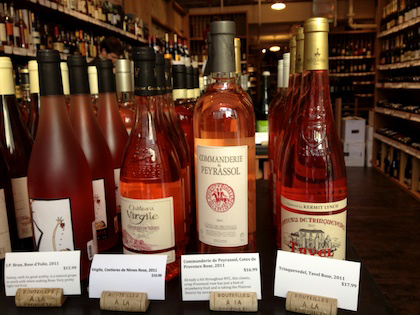 If I owned a wine shop, I'd stock it with wines from importers such as Kermit Lynch, Louis/Dressner, and Neal Rosenthal with a dollop of Burgundies from Becky Wasserman and a smattering of Spanish wines. I'd throw in some classic domestic wines and nouvelle vague ones too and aim for a few back vintages in the mix.
So I was like a kid in a candy store when I stopped by the new Flatiron Wines yesterday. Opened just over two weeks ago on Broadway between 21st and 22nd, the team comes from Uva Wines in Williamsburg. Uva is shop with serious natural wines chops, but manager Dan Weber told me "we're passionate about terroir. We're grower-driven and not dogmatic." If he likes a wine, he stocks it, which is why he has all the wines of estates like Domaine de la Pepiere in Muscadet and Sylvian Cathiard in Vosne Romanée. Really, it's the rare wine shop I walk into and would buy almost every bottle on the shelf but Flatiron is such a shop.
The large room in the front has various displays on custom wooden racks. The back room has Eurocaves and a farm table where Dan says they have official tastings Fridays, Saturdays, and Sundays–but unofficially, every day after five there will be something open. When I was there yesterday, there was the savory De Forville Langhe Nebbiolo 2009 available. Jeff Patten, owner of UVA, and Beau Rapier, buyer, were also in the store, offering good commentary and advice.

Check out the store before word gets out. Then you can score some of the mature wines available, such as seven back vintages of Domaine Tempier from Bandol, 1985 Huet Vouvray, 1991 Ridge Monte Bello, some coveted Clos Rougeard of Saumur-Champigny and more.
"We want to foster community," Dan said. With wines like these, they're on their way.
929 Broadway (bet 21st and 22nd), New York, NY 10010
flatiron-wines.com
212-477-1315