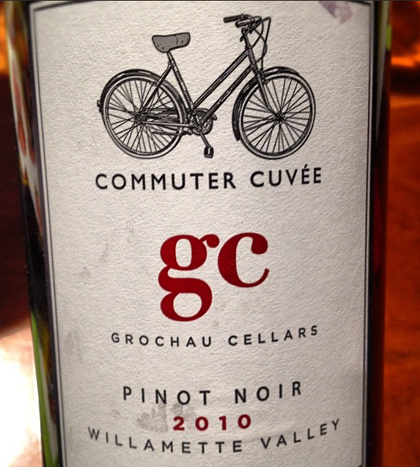 American wine under $15 is a difficult category. And domestic pinot can be downright dicey. And charity wines often sacrifice quality for the good of the cause.
So it was with skepticism that I tried the Grochau Cellars, "Commuter Cuvee" 2010 recently. Sold in Portland at $14.99 with a portion of the proceeds going to a bicycle safety non-profit. It's actually a gulpable pinot noir with good acidity and the bing cherry note often found in Oregon pinots. It glides in at 12.5% alcohol; if there's a better pinot noir available in the US under $15, I have yet to try it.
I spoke with John Grochau about how he could offer a 100% pinot noir for a reasonable price. Grochau has cycled at a high level for about 20 years (he even won a race last year) but into the front-of-house in the restaurant business, which led him to make his own wine label, sourcing fruit from various sites around the state and making the wines in Portland. In 2010 he found a vineyard site with 22-year-old vines whose owner was suddenly looking to sell 20 tons of fruit. It was a cooler vintage, which John prefers, but enough for good ripeness (the grapes were 22 Brix). He made this wine in actual barrels, which is decidedly rare for pinots at this price point. He also added some of the wines that he selected out of his higher-end pinots. It's a low-margin wine, he admits, but he's doing it again: The 2011, also from a cool vintage, will be released soon.
Thanks to site reader Gabe for pointing out this wine in the comments of a previous post. A perfect wine for National Bike Month!