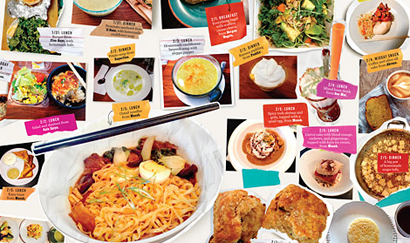 "When Did Young People Start Spending 25% of Their Paychecks on Pickled Lamb's Tongues?" Such is the headline of a New York magazine article about young foodies. Or, rather, one young foodie, the 27-year-old Dine Chang. While the story tried to make larger points about the millennial generation's love of food, casting the story in the light of this one character bogged it down with her quirks (detailed here).
Still, a few items stand out: her oversized spending on food, her curiosity to try various types of food, her iPhone fixation, her proud ignorance if not disdain for most critics, her reliance on the internet and word of mouth for information about where to go, and the shift of culinary excitement away from an older, moneyed crowd to a younger, hipper set. That last point is worth underscoring, as the author writes, "An abiding interest in food was something for old people or snobs, like golf or opera."
It's too bad the story didn't at least mention what Chang drinks along with her dining; if she got into wine, she could easily double the portion of paycheck devoted to dining. There are lots of parallels with young people getting into wine these days. In my classes at NYU, there are mostly twenty and thirty somethings who feel that wine is an integral part of coming of age. Moreover, it's cool and knowing about it boosts social capital. If millennials are driving wine consumption as survey data show, then I can't wait for the NY mag article profiling a budding wino, posting pics of Jura labels to Instagram.