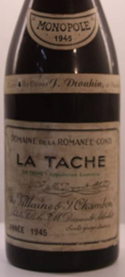 SPIT: bottles of DRC
SIPPED: the power of the internet; credit card return policies?
Don Cornwell, a collector and attorney, posted an impressively detailed assessment of lots that went under the hammer at a London auction last night. Spectrum and Vanquish, the auctioneers, did withdraw some lots but continued to sell others despite statements from DRC's English and American importers urging buyers to beware. I heard about someone who bid on some DRC knowing all the backstory but was attracted by the (relative) low price; if he finds the bottles to be fake, he will dispute the purchase with his credit card company. For background on the consigner, see winediarst. For tweets from the room, see @Pigeage.
SIPPED: punishment
An arsonist who burned a warehouse with $250 million of wine in it gets 27 years in prison. [SFgate]
SIPPED: good vine hunting
Columnist Jon Bonne tracks Tegan Passalacqua, an influential and connected vineyard scout, as he scours remote vineyards in Northern California. Spot the one behind Carl's Jr.! [SFgate]
SIPPED: more celebrity wine
Lionel Messi shoots and pours: announces a new wine from Argentina to benefit his foundation. [drinksbusiness]
SIPPED: charity tasting
This Saturday, a dozen top NYC sommeliers will help pour dozens of wines in a fundraiser. The big question is whether jeans will outnumber windsor knots–stop by to find out! The charity benefits Wheeling Forward, supporting those living with disabilities. [leduwine.com]