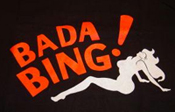 What's the first thing that comes to mind when you think of New Jersey? Surely, the local wine, right?!
That's what state legislators were hoping when they voted a reform to New Jersey wine law this week. With the governor's signature, which he has said he will provide, the state will become the 39th to allow the direct shipping from wineries to consumers. After Granholm, the 2005 Supreme Court decision that found it unconstitutional to allow in-state wineries the right to ship to consumers while out-of-state wineries were prevented, New Jersey was one of the rare states that didn't open up shipments, but instead closed down.
The new law is certainly worth celebrating but don't think about popping Champagne unless it is purchased at a store in NJ. The most glaring shortcoming is that the bill only legalizes shipments from wineries, not wine stores, thus disallowing free trade in over a third of the wine consumed in the US. For reasons of parity, that's too bad. But since there are many innovative wine stores and the state has become one of the most competitive in the country, New Jersey residents are still well-served.
Anyhoo, not all wineries can ship to New Jersey under the new law, just wineries under 250,000 gallons (about 85,000 cases). These "capacity caps" are controversial and were struck down in Massachusetts (at a threshold of 30,000 gallons) as a form of discriminating against out-of-state wineries, which was what Granholm said was the big no-no. Further, wineries must purchase a license to ship, which is among the highest such fees in the country. Cathy Corison, proprietor of Corison in Napa Valley, tweeted "NJ opens up to direct wine shipment. $938 annual fee. Gee… thanks. #smallwinerytax."
For an additional fee, licensed wineries are allowed to open more than a dozen tasting rooms for direct sales throughout the state, which also seems to advantage in-state wineries. But if an out-of-state winery opened a store, it would be a new and fascinating challenge to the three-tier system. (In this vein, Chateau Montelena just opened a "tasting room" in the Westin hotel in San Francisco; New Jersey also has many BYOB restaurants.)
So for NJ consumers, it's a half-a-loaf law. It's better than the status quo ante. But not ideal since buying wine from, say, NY wine stores is still illegal (and thus, I'm sure, never happens). New Jersey wineries may be the biggest beneficiaries of all as they can expand in-state (and out-of-state!) sales. Time to bone up on the terroir de Jersey Shore (although this map is much funnier).
What do you think? If you are a winery or New Jersey resident, are you excited or non-plussed by the change?