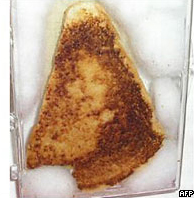 Is food-wine pairing dead? Never! And the same is true of our "impossible" pairings. So by request, we kick off 2012 with an easy one for you: grilled cheese.
Yes, it's comfort food. And, no, it's not impossible as the bread-cheese duo is the basis of so many delicious staples from pizza to ravioli. So raise the degree of difficulty, if you so desire, by adding a twist to the classic by suggesting your favorite cheese. (Incidentally, Ruth Reichl gave some tips last week on Gilt Taste about how to make grilled cheese better, including grating the cheese and adding a thin layer of mayo!) Who knows, maybe your grilled cheese will be graced by a depiction of the Virgin Mary it and you can sell it for $28k on eBay!
Bryan, who asked the question originally, said he went with Australian cheddar and a Simon Bize Savigny-les-Beaune 2009. How would you spin it?