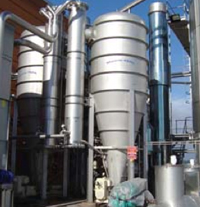 St. Helena resident John Gillespie tweeted the other day: "Trade and consumer alert – bad harvest weather in CA meant lots of grapes (Napa Cabs included) went through "flash détente" machines." Since I am a political science junkie, I thought SALT II had finally made it to Napa!
But instead of laying down weapons, some vintners appear to be ratcheting up technology as Mother Nature dealt them a third consecutive growing season that was relatively cool. Wines & Vines, a trade publication, ran a story last year on Flash-Détente, which roughly translates as "instant relaxation." They report that by heating the grapes to 185ºF and then sending them to a vacuum chamber to be cooled, the the technology increases extraction from red grapes while minimizing bitter seed tannin and pyrazine (vegetal) odors. The finished wine also has a darker color. Because some of the water content of the grapes has been vaporized, the pre-fermented juice (called "must") has a higher sugar content, which will result in higher alcohol or will be adjusted down in some way. Developed in France, the first Flash-Détente machines arrived in California in 2009.
Here endeth today's Flash class on winemaking.