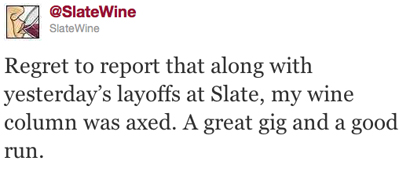 Mike Steinberger tweeted that along with the high-profile layoffs announced yesterday at Slate, his wine column also fell victim the budgetary ax. While the decision may seem penny-wise for the bean counters at Washington Post (Slate's parent), it's pound-foolish to cut an original column with great substance; what are they going to run now, lower-cost, pageview-baiting slideshows? Ugh. It's too bad since I have tremendous respect for the publication, both the crackling editorial and the internet-only, free model from their first day of publication.
Mike writes with tremendous verve, brio, wit, knowledge, and a nose for a good story as well as a great wine; this is a major blow for wine writing. Fortunately, his writing will continue on his blog, WineDiarist.com. Check it out, subscribe, do what it takes to keep his writing coming.
Since Mike would probably never do a roundup of his own columns, and you probably don't have anything better to do on this rainy, August afternoon, here are a select few nuggets from his run there, 2002 – 2011.
Perhaps his most serious (and lengthy) piece was: What's in the Bottle? An investigation into the startling fraud accusations that have upended the fine wine world.
He had a touching quest with his dad for 1996 Coche-Dury Corton-Charlemagne: An Oenophile and His Money: Is any bottle of wine worth $700?
And some more rarefied juice: "The Greatest Wine on the Planet
How the '47 Cheval Blanc, a defective wine from an aberrant year, got so good."
Taking on big targets: "Grape Rot: The new Wine Spectator's distinct aroma of fishiness."
Who will ever forget his takedown of Sauvignon blanc? "Why Sauvignon Blanc is overrated"
Style and substance: "Cold Shower–How to spit with the wine pros."
He was early to the story of double-entry bookkeeping: "Grape Deceptions: Why most wine collectors are also compulsive liars."
A three-part examination of the physiology of taste: "Am I a Supertaster? The physiology of the wine critic."
How kosher wine got good: "Sure Beats Manischewitz: The revolution in kosher wine."
Sour Grapes: Why is there no such thing as a good, low-priced California wine?
Who's To Blame for Expensive Wine? The trouble with Robert Parker's point system.
His first Slate column, July 17, 2002: "The Great and Powerful Shnoz–Does the emperor of wine have any clothes?"
See the complete list
Mike's blog: WineDiarist.com