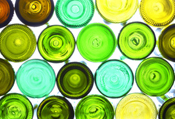 Chief Bottle Washer: the title is no longer just a punchline. Bruce Stephens is the CEO of Wine Bottle Renew, a California startup that washes and reuses wine bottles profiled in today's Wall Street Journal.
"You take a bottle and you empty the bottle, and my God, why would that only be a one-time bottle?" Stephens tells the Journal. He points to the lost era of bottle washing in milk bottles, beer bottles and even Coke bottles.
Reusing a bottle is an important way to reduce wine's carbon footprint. In a paper I co-authored on the subject, we found that the manufacture and delivery of empty bottles to the winery accounted for anywhere from about half to three-quarters (depending on bottle weight) of the carbon dioxide emissions of a wine locally produced and consumed, taking into account all of production and delivery phases, including the vineyard and winery operations. Recycling is good since in introduces a closed loop. But reusing is better since the energy demands are so much less than recycling.
While the amount of bottles that Wine Bottle Renew can clean in a day still is a drop in the bucket of California's wine production, it's good to see that industry heavyweights Kendall Jackson and Sutter Home have invested in the company, which may indicate eventual broader usage.
Obviously, there isn't a standard shaped wine bottle today as there was for milk or Coke back in the day. But what do you think: if it encouraged reuse, would you favor wine bottle standardization? I would, especially if the bottles were lighter (14- to 19-ounces). Sparkling wine producers could be the first adopters since there is little variation among their bottles, the heaviest in the wine trade.
"For New Wine, Vintage Bottles" [WSJ]