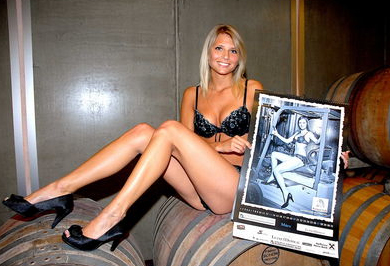 BOOSTED: …awareness!
Young Austrian winemakers have posed scantily clad for a calendar to boost…awareness! Of Austrian wine. Which one is Miss Gru Vee again? Appearing later this year: a calendar of old hag winemakers from the mountains. [Decanter]
CRASHED: shipping container
A forklift lifted 462 cases of wine 20 feet in the air! No, this isn't the Guinness World Record for machinery; instead, the load fell to the ground destroying the Australian shiraz therein. Although the vintner, Sparky Marquis, is crying over spilled wine, he was also insured. [NYT]
SPIT: infomercials
RJonwine has a detailed account of this past weekend's conference of wine bloggers in Charlottesville, VA. He decried the preponderance of "paid-sponsor presentations" on the program. Another blogger who is disenchanted with blogging finds the whole event salvaged by hanging out in the wee hours with fellow wine enthusiasts.
MULLED: deposits
Massachusetts may expand its bottle deposit program to include more beverages. If they were really serious about encouraging recycling, they'd raise the rate too.
SIPPED: me on the teevee
Well, sort of. Thirteen.org has a new magazine called MetroFocus, which has an article on NY wines. Spot the Dr, Vino quotage, more or less accurate!
SIPPED: informative infographics
A very cool map of world trade in wine from Rabobank. Just wish it were higher res!