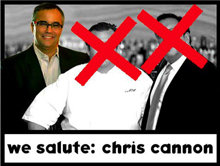 Paul Grieco, director of all things wine at restaurants Hearth and Terroir, is clearly a man of opinions: consider that as of today, for the third annual "summer of Riesling," the only white wine available by the glass at Terroir (both locations), will be Riesling. He has used his wine list as a soap box for many years, heralding unsung grapes, praising Chateau Musar in Lebanon, and giving away sherry every day from 4 – 6 PM.
Now, on page one of his wine list, Grieco entered a high-profile fray in the NYC dining scene by vividly showing his support for restauranteur Chris Cannon, who abruptly closed his restaurants Alto and Convivio recently. (The closings were part of the fallout from a dispute with Cannon's former business partners chef Michael White and investor Ahmass Fakahany, who together own Marea, Ai Fiori, and Osteria Morini.) Who needs a blog to rant when you can you can print your views on a wine list?
On a related note, even if the Krug was not properly chilled on a private jet bound for Aspen last week, it must have been a frosty trip since Grieco and Michael White were onboard.