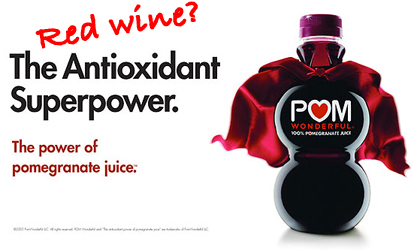 Vinopic, a new wine retailer in Britain has developed a way to rank wines based on their health-giving properties. Red wines are sold with an IQ score, or Intrinsic Quotient, devised by Roger Corder. The site says that the score rewards wines with "higher quality" and polyphenols while penalizing wines with higher alcohol, sugar, and sulfites.
While I am sure that the site will become a popular destination (particularly among Google searchers seeking the fountain of youth), my general reaction is: so what? Wine may play a part in a healthy diet. And I have met a lot of people (mostly over 50) who say they only drink red wine because of the resveratrol. But I would never buy a wine solely based on whether it's healthier for me. I'd rather eat a high-fiber, low-cholesterol diet, go for a run, drown in a bowl of blueberries–something, anything–rather than drink a steady stream of Madiran, a wine high in polyphenols. Nothing against Madiran, its just that there are too many interesting Rieslings wines to be limited to reds. Buying wine for health reasons: It's the kind of thing that makes me sick.
What do you think? Even though the US regulatory authorities prohibit selling a wine on health claims, would you buy one based on perceived health value?