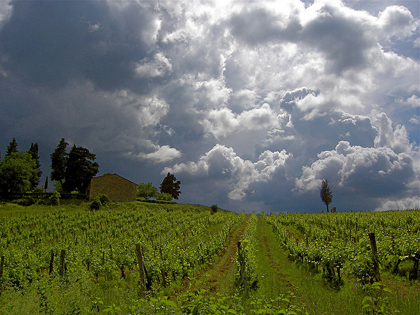 Weather: it's what you discuss in elevators or with the in-laws. But if you're a winemaker or even a wine consumer, it can actually be pretty important.
And things are heating up in talking about weather in the wine world. Especially if you are in Bordeaux that is, since it is en fuego! Or something like that: The heat has been abnormally high and the rainfall is way below average. So if the drought-like conditions keep up, the reduced supply of grapes could push wine prices even higher! Is it 2003 all over again? The vintage in Burgundy is also advanced.
By contrast, cut to the Auction Napa Valley this past weekend and people were breaking out the umbrellas rather than the sunscreen. Weather has been cool across the state. Rhys Vineyards has vineyards in more of the marginal weather areas of California and therefore is rightfully weather-obsessed, so their Twitter feed is an excellent source of weather info. Temperatures at their Skyline Vineyard, perched at 2,300-ft elevation, hovered at 49.6 degrees Fahrenheit in May, making it one of the seven coldest Mays since 1931; their vine shoots are about two or three inches behind, they tweet. They say that weather in late June is key for the fruit set so they don't mean to sound gloomy. And after California's cool and damp 2010 vintage, the "high-octane," "fruit-bomb" style is taking it from all sides these days.
Australia was in the headlines for the devastating Queensland floods earlier this year. But even some of the wine growing regions were hit by heavy, "seven year rains" that rotted unpicked grapes quickly and made for a lot of grape selection both in the vineyard and on sorting tables. The Sydney Morning Herald explicitly linked the "soggy" weather to lower alcohol levels.
It's weird that California and France appear to have flipped weather so far for 2011–there's something you can talk about in your next elevator ride. Just don't let the Mayans know since I think that was part of their their 2012 prophecy…