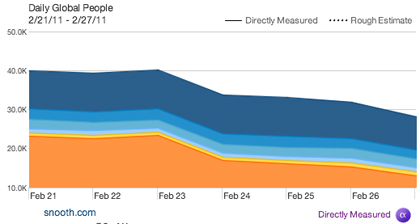 Google reshuffled its proprietary algorithm recently to favor quality and penalize "content farms" that were gaming the system, producing content optimized for search engines, rather than humans. The NYT had a discussion of the changes, and here's a list of 25 sites severely affected. (Arianna Huffington should count 315 million lucky stars these changes came just weeks after she sold her site to Aol.)
When I read about this development, I wondered what would happened to Snooth.com, the wine web site that seems to be a champion of SEO, ranking high in the organic search results yet providing so little useful information that they were found to be scraping cellartracker.com content since 2007 to populate some pages. For web ad sales, more page views can mean higher ad revenues.
I searched for a few specific wines and the results returned a few snooth pages in the top ten so I thought they hadn't been affected. But according to quantcast, their (directly measured) pageviews have slid significantly over the past week. I guess time will tell the fuller story.