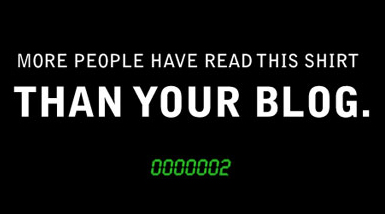 "I do it on the web for free."
A fellow blogger and I once joked about putting that on a T-shirt. Blogging is not a path to riches. Especially for wine. While a tech blogger might earn a decent living from Google's Adsense or the Amazon affiliate program, such a path is not really open to wine bloggers. For one, Google considers wine ads to be for an "non-family safe" content. So in order to allow wine ads on a site, a publisher using Adsense has to allow adult content which could be opening Pandora's box in more ways than one. Similarly, the small percentage that Amazon offers affiliates may go a long way on if the blog reviews plasma TVs and digital cameras. But wine books and corkscrews? Not so much.
However, there are some ways to make money in wine writing. Consider Allen Meadows, who writes a quarterly e-newsletter Burghound, focusing almost entirely on Burgundy. He told Slate.com recently that he has about 7,500 subscribers paying $125 each. He also self-published a $65 book last year. So he has in excess of $900,000 of revenues a year. While that sounds like a nice chunk of change, it's worth bearing in mind that Meadows had a career in finance, retired early, and has been writing Burghound for ten years.
Robert Parker, publisher of the Wine Advocate, was recently quoted as saying that he has 55,000 subscribers ("nearly all men") before admitting that it was from "a few years back." Subscriptions run $99 a year, so at one point, the top line revenue was in excess of $5.5 million a year (including books). Parker now has a several contributors to his publication.
Jancis Robinson and Steven Tanzer also run newsletters and subscription websites but no figures were publicly available. Various print magazines covering wine charge tens of thousands of dollars per page of advertising so their staff (and publishers) obviously make a living.
Developing software can be profitable–just ask anyone in Silicon Valley. Or in Seattle, where cellartracker founder Eric LeVine told techflash.com that he was on track to make over $500,000 in 2009. About 80% of CellarTracker revenue comes from voluntary payments from users who actually generate the site's tasting notes.
Journalism writ large is grasping to find a business model that works. The NYT will implement a paywall of some sort later this quarter. Although paywalls generate revenues from subscribers, they drastically reduce the number of visibility of the content (consider The Times of London's 90% decline in traffic after instituting a paywall). For wine writing, where the audience is small to begin with, the subscription model can only really work for a handful of outlets. And, it seems, only for those with tasting notes and point scores: readers appear willing to pay for buying guides but not for discussion and commentary.
Which brings us back to blogging. Wine blogs, in some instances, have demonstrated influence. But they have yet to be money spinners and may never be. So the best advice for bloggers is to blog for love. Or exposure for more profitable activities (such as selling wine or selling books or a TV show). However, trying to write a blog for money can be a fool's errand fraught with conflicts of interest.
What do you think: is there a way for blogs (or wine writing that's comprised of other than simply tasting notes and scores) to be reader supported? The app store offers a ray of hope.