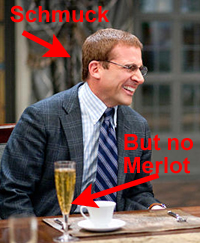 SPIT: "imbibing idiot bias"
Job applicants who partake in alcoholic drinks are perceived as less intelligent and hireable according to a new academic study, dubbing the phenomenon an "imbibing idiot bias." In the actual experiments, the subject ordered a glass of "house merlot," so perhaps the conclusion is valid. But what if the subject ordered a glass of hipster wine, such as pineau d'aunis or Txakoli, or a back vintage something good? Maybe that idiot deserves a job after all. [Reuters]
SPIT: clarity
In the hope for clarity, French authorities propose to rename AOC Bourgogne Grand Ordinaire as Côteaux Bourguignons. You'd think they ordered the house merlot! [thedrinksbusiness]
SIPPED: more imbibing idiots?
Coca-Cola has been sued over the health claims of vitaminwater. Its defense: "no consumer could reasonably be misled into thinking vitaminwater was a healthy beverage." In and of itself, it's not wine related, but it does remind me of Fred Franzia's defense in the case of Napa Ridge (not sourced from Napa fruit) that nobody expects Hawaiian Punch to come from Hawaii.
SPIT: cartel action
Nine sherry producers have been slapped with a $9 million fine from Spanish competition authorities according to Decanter. Their breach of the law: colluding to set minimum prices for private label sherry to supermarkets. Blogger Oliver Styles would be fine with the price collusion though, writing "Wouldn't that stick a lump of deep shag in the supermarkets' pipes? And they'd have to smoke it."
SIPPED: The Doon of a new way?
Randall Grahm places a two million dollar bet on a new vineyard grown from grape seeds (as opposed to cuttings). And not just any seeds: he will crossbreed his own hybrids, thus making essentially new grape varieties, the seeds of which will give rise to the 90 acre vineyard in San Juan bautista. Of note, he calls the project a form of "viticultural philanthropy." [SFGate.com]
SPIT: overpriced wine lists
Eater has a run-down of four wine lists, all obnoxious in their own way, which they dub the Hall of Shame. One question: are plaques available for purchase?