Ten years ago, vineyard owner David Hirsch of Sonoma brought some of his wines to New York. Wine & Spirits magazine assembled a group of leading sommeliers, tasted the wines and Rod Smith wrote a story about it. A couple of weeks ago, the magazine assembled another group with David Hirsch to taste some of his 2007s–as well as some of the same 1997s tasted a decade ago.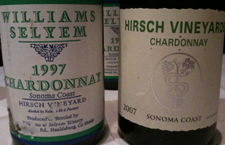 Hirsch bought his land on the Sonoma Coast, just three miles from the Pacific, in 1978 and planted a portion to pinot noir in 1980. About 1,100 acres in all (though less than 100 planted), it comprise a "geological jumble" of sites with the San Andreas fault running through the middle. For decades, the fruit was sold to leading wineries; in 2002, Hirsch built a winery in the middle of the vineyards to make wines under his own label as well.
So it was that the 1997 Chardonnay that we tasted was made by Williams-Selyem but the 2007 was from Hirsch Vineyards. I found the 1997 to be still surprisingly big and creamy, with stiff peaks of 16% alcohol. The 2007 Hirsch, although nobody's going to confuse it with Chablis, was definitely leaner, with higher acidity and lower alcohol: voluptuousness was replaced by more restraint. Consider it a datapoint in the discussion about alcohol levels.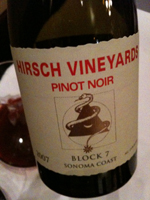 Then we moved on to pinot noir, namely three wines from Littorai, Williams-Selyem, and Siduri from each 1997 and 2007. The 1997s were all still hanging on but in the "ready to drink" phase. The 2007s were clearly younger but expressed the common winemaking thread: I found the Williams Selyem to be surprisingly tight yet succulent, the Littorai wine to be big but classy, and the Siduri was too big and woody for my taste.
Pinot noir layers the choice of vine clone on top of the panoply of factors that influence the final wine, including the site and the winemaking. Three of the 2007 Hirsch pinots exhibited such differences. The San Andreas is a big wine with some wood influence built on a surprisingly minerally core–I could see this being, rightfully, a phenomenally popular wine (although the $50 price tag will limit that popularity somewhat). The Block 6E, from the swan clone, was a fuller-bodied style that went too far for me. But the best wine of the tasting, in my view, was the excellent Block 7, from the Mount Eden clone, that had a beautiful delicacy, restrained fruit, and a elegant, firm tannins–this is a wine I'd like to taste again in ten years.