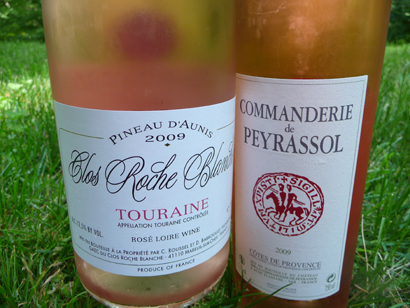 It's sunny with a high of 86 today in New York. Although rosé is food-friendly and refreshing for more months than it is usually given credit for, today is classic rosé weather. I've got a couple of good rosés so now all I need is a pool…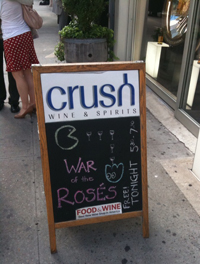 Last week I stopped by Crush Wine & Spirits on 57th St (map it). They used to do free tastings weekly in the store but now have switched to larger ones only once a month. A staple in this vein has been their annual "war of the rosés" where they uncork and pour a dozen or more for consumers who think pink.
My favorite of the all-2009 lineup, both foreign and domestic, was the Clos Roche Blanche, a rosé from the pineau d'aunis grape, which usually makes some pretty light reds to begin with. This wine ($18) from the central Loire had great brightness and an alluring subtlety. The other wine that I bought after the tasting was the Commanderie de Peyrassol, a Provencal rosé that is consistently fun and delicious (and a good value, on sale for $14.39 that day–search for these wines).
After tasting the wines, I wondered if 2009 might not be the greatest rosé vintage in Europe? Not that people really give much thought to rosé and vintages. But it seemed to me that some of them were not as bright and snappy as in prior years. What is your experience? While awaiting your reply, I might just uncork one of those bottles pictured above.