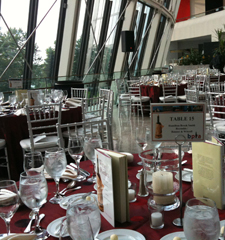 Have you ever met someone and talked with her about a topic, only to find out that–unknown to you–she is a key player in that very topic ? That happened to me about a week ago.
I gave the keynote talk to 250 attendees at the annual dinner of the Boston Patent Lawyers Association. The organizers wanted to tie it into my book, Wine Politics: How Governments, Environmentalists, Mobsters and Critics Influence the Wines We Drink. So for dinner I selected wines that tied in with the first three items in the subtitle and then used those wines to tell stories about the material in the book. (They were the William Fevre, Montmains, Premier Cru Chablis 2007; Domaine Huet, Le Mont, Vouvray (sec) 2007; and Ridge Geyserville 2007.) In the talking about the politics of American wine, I discussed many of the legal tussles, particularly around the issue of direct shipping.
It turns out that the patent lawyers were honoring Judge Rya Zobel of the U.S. District Court that evening. Born in 1931 in Germany, Judge Zobel was vibrant and lively and delivered funny remarks from the podium. Only at the dinner table did I learn that it was Judge Zobel who decided the case Family Winemakers of California v. Jenkins. In that case, she ruled that a Massachusetts law that essentially prohibited "large" wineries (over 30,000 gallons production) from selling directly to consumers was unconstitutional since it effectively barred 98% of out-of-state wine while allowing 100% of in-state wine from being sold directly. In January, that decision was upheld on appeal at the Circuit court; the decision will not be appealed to the Supreme Court.
I opened my remarks by raising my glass on behalf of wine lovers to Judge Zobel!