"Numerical scoring has replaced the drama, joy, pathos and excitement of wine," said Dan Berger last night at the Four Seasons in New York City. Berger was one of four inductees into the Wine Writers' Hall of Fame of the Wine Media Guild, a 35 year-old organization. This was the third class of inductees, which included Michael Broadbent, Karen MacNeil, and Andre Simon (posthumously for Simon; see bios here). Over 100 attendees brought wines from their cellars to share and pair with the bison, duck and rabbit on the menu.
Berger, once a math major who has written for a lengthy list of publications over several decades, delivered prepared remarks lamenting the rise of scores and the decline of prose in wine evaluations.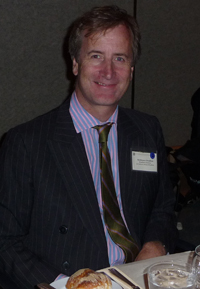 Bartholomew Broadbent (right) accepted the award for his father. He delivered some funny remarks about how his father had stopped drinking, except for putting champagne in his orange juice at breakfast, having a Madeira in lieu of coffee at 11 AM, drinking red and white wine with lunch (which didn't count because it was with food), then having Madeira again instead of tea in the afternoon, more wines with dinner that, again, didn't count, followed by some port. But because his doctor had told him to have a drink a day, he had some cordial before going to bed.
Broadbent praised the festive nature of the dinner while wistfully remembering the bygone dinners of Lloyd Flatt and others. He said that such dinners of fine and rare wines "don't really happen any more because nobody thinks they are real."
Ed McCarthy, a WMG member and previous inductee, reminded the crowd of the adage that nobody should die with a full cellar. Then he said that Andre Simon died with only two bottles of wine, very successful indeed. Peter Sichel, also a previous inductee, said that when Simon, the author of 104 books, hit 90 years old, a message went out to his friends alerting them to the fact that Simon had depleted his cellar and requested bottles to be sent.
The WMG also awarded three scholarships to students studying food and wine service at New York City College of Technology.
The wines flowed freely. Some bottles were off while others were on. I had '71 Haut Brion that was drinking beautifully with the ethereal delicacy of mature cabernet. A Chateau Branaire '75 from magnum was also in excellent shape. A '97 Turley Old Vines was devoid of acidity, had residual sweetness and angular alcohol. I finished the evening with a glass of '49 white port from Australia that was a ringer for Madeira. Other wines seen in the room '66 Lynch Bages, '74 Spanna, '38 Niepoort, '00 Hermitage, '71 Beerenauslese, '79 Ridge Lytton Springs and dozens more. More photos after the jump.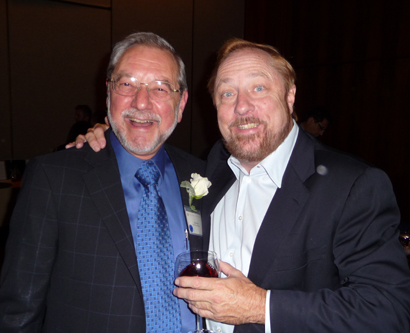 Dan Berger and Kevin Zraly, a previous inductee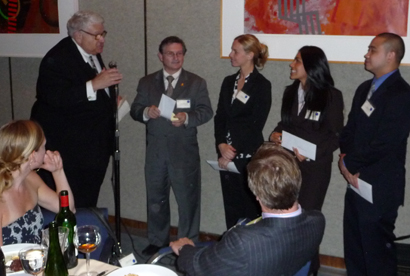 Presenting the award certificates to the scholarship recipients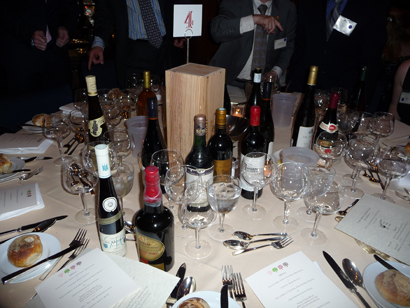 A table before corks were pulled