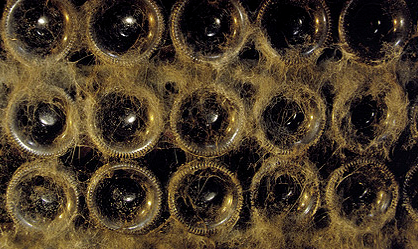 The current copy of The World of Fine Wine just landed on my desk with a thud. Since it's based in London and costs $169 a year, it's not something you can readily pick up at Hudson News. In this issue, the 216-page glossy magazine/journal compiles provocative essays and tasting reports from independent journalists and some people in the trade.
One essay that caught my eye was about the stylistic struggle between modernists and traditionalists that has been roiling the wine world for some time now. (For those who haven't been following, "modern" wines are often characterized as having abundant, ripe fruit, lots of extraction, quite a bit of oak influence, and higher in alcohol while "traditional" wines are construed as being less overtly oaky, having much less extraction and manipulation in the cellar.)
In the piece, Mike Steinberger argues that the polarization has been overplayed–too bad since it could really do well in a Broadway adaptation, perhaps besting the Sharks vs Jets! Further, there's a vast gray area between these two poles. Finally, he argues that the rise of modern wines has actually been largely beneficial by getting the traditionalists to clean up their cellars and pay more attention to their vineyards. Here's a snippet:
It is wrong to depict this modern-versus-traditional split as a kind of Manichean, zero-sum battle. It is something far more mild: a push here, some push-back there. Not only that; it has largely redounded to the benefit of both wine and wine consumers.
As to the state of play in the non-war, he argues, the pendulum is swinging back to the traditionalists. As evidence, he cites, on the one hand, general fatigue with Super Tuscans and garage wines of Bordeaux. On the other, he notes the tremendous regard for traditional Piedmont producers such as Giacosa, G. Conterno, and G. Moscarello, a tsunami of articles about Lopez de Heredia in Rioja (I'll add that the crowds are always deep at their annual distributor tasting in NYC), and a "greater demand for authenticity–for wines that are made by people who actually get their hands dirty in the vineyard." Check out the whole article in print if you get a chance.
What do you think? I find it a convincing argument while also admitting the evidence is still contained to something of a niche. But with all the interest in natural wines, making wine in amphorae, resurrecting heirloom varieties, and a greater respect for the vineyard more generally, that niche could expand noticeably over the coming decade. Moreover, the amount of column inches (remember those?), blog posts and tweets in favor of traditionally styled wines must sooner or later spark some demand, thus leaving some modern producers wondering if they might want to cancel their next order for new oak barrels and experiment with something a little more olde tyme.
UPDATE: the article is now available online at The World of Fine Wine website. Also, they are extending a 20% discount to the readers of this site; enter WFW5 into the subscription form (DrVino.com receives no compensation).
cropped image from lopezdeheredia.com