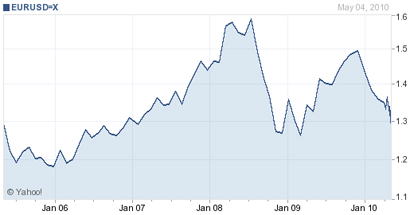 The euro hit $1.28 this morning, down from $1.51 in December. Does the lower euro mean that European wines are likely to get cheaper on store shelves soon?
While European travel will definitely be cheaper today than it was six months ago, wine importing doesn't always work like that. (As a backgrounder, I examined wine and currency hedging when the dollar was headed the other way a few years ago.)
I tweeted about today's currency situation and importer Jon-David Headrick replied in two tweets, at first joking, "This is our big chance to raise Cour-Cheverny prices by 30%!" (Cour-Cheverny is a tiny Loire appellation making wines from the obscure romorantin grape variety.) He elaborated: "Prices should fall unless importers have made the time-honored "when the euro falls you can raise prices" deals with producers…"
For a longer reaction, I put the question to Victor Owen Schwartz of VOS Selections who has been importing and distributing European wines–including Greek wines–for 23 years.
Yes it is low today but you know it doesn't make sense to price one's wines on the lowest spot rate of the day; what happens when it shoots up, do we just raise the prices? the market would love that! The level of volatility in the euro has been terrible, it's a moving target. As you say, it has been over 1.50 in the not so distant past so if I am buying wines today and paying in 60 days or so, where will the euro be then? All that being said, with everything that is going on in Europe, starting with Greece, I believe that the basic metric of the euro assumption of importers will be decreasing. Now will that translate into lower prices on the shelf? My sense is that the wholesale trade will use the extra margin to make better buying opportunities for their retail and by-the-glass customers (volume deals) but not necessarily lower their prices. In these cases from what I have seen, some restaurants and retailers pass on the savings, some keep it. Don't forget that #1, we are coming off of some rather lean years and #2, we are all selling less expensive wines so we need to make money somewhere.
As to the Greek situation, he said that "the impetus for exporting will only be that much more important."
Hit the comments with your thoughts on the situation, especially if you are in the wine trade.