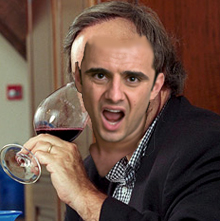 The wine world just got wackier.
A new Twitter account going by the name of Bobby Parkerchuk mashes the tweets and tones of Robert Parker and Gary Vaynerchuk. The bio reads: "Wine guy, hedonist, host of Winery Advocate TV. Loves points. Loves the hustle." Parkerchuk has been hailed as "hilarious," "my new god," and " the best micro-niche-sub-culture satire ever" by people who probably should know better. We scored the twitter-interview, via instant messenger:
Dr. Vino: Bobby, how would you describe yourself?
Bobby Parkerchuk: Blending the bombastic musings of Robert Parker with the hustle of GaryVee. With points for all.
DV: So where did you get the inspiration for this?
BP: I have to hand it to Ruth Bourdain…she's a surly broad w great legs–and I'm not talking in the wine glass…99 pts.
DV: Eric Asimov said that the reason you're so much worse that RuBo is that you have such "drek" to work with. True?
BP: i resemble that remark, bro! Don't be dissin' on my Pappy and my Daddy.
DV: huh?
BP: my tweeps tell me that i am their luv child.
DV: How old are you?
BP: I have the hustle of a 32 year-old businessman and the gout of a 62 year-old wine critic.
DV: Where do you live?
BP: In Monkton, NJ, where points grow on trees, CdP 07 flows from the taps, everyone loves the Jets & the hustle…100 pts
DV: CdP as in Chateauneuf du Pape 2007?
BP: bro, try to keep up…"the most compelling vintage of any viticultural region I have ever tasted." 100 pts If u disagree, your opinion is false…just like Harlan 1997.
DV: Okay, no need to get sassy. One thing we do on my site is "impossible" food-wine pairings. What's the zaniest one you've had that works?
BP: bro, food-wine pairing is easy–#CdP07! I get it with sushi at Masa, w veal parmigiana at Vito's, pour it by the magnum at home w onion soup and homemade lasagna while watching the J-E-T-S!…link it up, Mott!
DV: Um, all right then! Is there any wine that you avoid?
BP: bro, so much to avoid…Burgundy: all. Loire: all. Underripe, low alc anything…they have no flavor…i give those to guests…or to Squires for xmas…but so much to luv! Like my family! 100 pts!
DV: Why do you keep calling me bro?
BP: because i luv to #CRUSHIT and don't have time to write yer real name, bro
DV: Bordeaux 2009: great vintage or the greatest vintage?
BP: Monumental…stupendous…towering vintage esp Right Bank..buy it b4 the Asians do…
DV: All right, how do you relax? What did you do last weekend?
BP: mowed the lawn..looks great,95 points…then watched Avatar (preview copy; all big critics get them) on my new 3D TV w the delicious Misha & cuddly DrBigJ…I wish i could clone them and offer them as a two pack on Cindy! 100 pts!
DV: Okay, seriously, who are you? In the wine trade? A laid-off writer? I mean how many people really get all these references, probably 200 in the whole world?
BP: bro, my daddy garyvee has 850k followers on twitter! He just gave up $20-$40k per speech to restore his work-work balance! My Pappy is the most authoritative critic in…the…world! That's a lot more than 200 peeps, bro. 57 pts to you, vino.
DV: Have you heard from either of your daddies?
BP: yes, my daddy wrote me "THIS IS THE BEST TWITTER ACCOUNT EVER!" but i have yet to hear from my Pappy…sniff..he must be 2 busy..
DV: Any final thoughts?
BP: Have some CdP07 from mag w Maryland crab cakes from The Oregon Grille…turn on a Jets game while reading my vook on yer ipad bro! 100+pts!